Research article
Open Access
Open Peer Review
This article has Open Peer Review reports available.
Clinical outcomes of interactive, intensive and individual (3i) play therapy for children with ASD: a two-year follow-up study
Received: 3 March 2017
Accepted: 30 April 2018
Published: 12 May 2018
Abstract
Background
The outcomes of psycho-educational interventions for Autism Spectrum Disorders (ASDs) comorbid with severe to moderate intellectual disability (ID) are insufficiently documented. In this prospective study, we examined a developmental individual, interactive and intensive approach, called the '3i method', which is based on play therapy.
Methods
Twenty DSM-IV-TR ASD subjects (mean chronological age 63.8 ± 37.8 months; mean developmental age 19.5 ± 6.6 months) were included and followed the 3i method for 24 months. Developmental and behavioural skills were assessed at baseline and after 24 months using the VABS, PEP-R and Nadel Imitation scale. Autism severity was evaluated using the Child Autism Rating Scale (CARS) and the Autism Diagnostic Interview (ADI-R).
Results
After 2 years of the 3i method, our 3 primary outcome variables significantly increased (VABS developmental age of socialization increased by 83%, age of communication by 34%, and Nadel Imitation score by 53%). Almost all VABS and PEP-R domains significantly improved. Additionally, increases in the VABS socialization score were positively correlated with the total number of treatment hours and CARS score; all ADI-R areas significantly decreased; and diagnoses had changed in 47.5% of the subjects (37% for PDD-NOS and even 10.5% for ID without PDD).
Conclusion
Children who followed the 3i method for 2 years had significantly improved behavioural and developmental skills and showed a clear decrease in autism severity. These results suggest that the 3i method may be useful for autistic children by improving their daily interactions with their social environment.
Trial registration
was retrospectively registered on May 20th, 2014 by the French Agency for drug and health (ANSM) under number ID-RCB 2014-A00542–45, reference: B148558–31.
Keywords
Autism spectrum disordersDevelopmental interventionPlay-therapy3i method
Background
Autism spectrum disorder (ASD) is a life-long neurodevelopmental disorder characterized by early impairments in socio-communicative skills that are associated with a set of restricted interests and/or repetitive stereotypical behaviour [1]. Recently, the fifth edition of the Diagnostic and Statistical Manual of Mental Disorders (DSM V) added sensory impairments to the diagnostic criteria of the behavioural manifestations of ASD [2–4]. Many research efforts have been made to identify precursors of ASD, leading to a significant decrease in the age of diagnosis [5], which enables earlier treatment. The existing treatments are mainly symptomatic.
Behavioural methods, which aim to develop certain expected behaviours through child reinforcement, have been proposed to treat ASD with significant scientific support [6, 7]. Applied Behaviour Analysis (ABA) is a one-to-one intensive approach based on behavioural strategies and targets specific symptoms using reinforcement of adaptive, expected skills [8, 9]. After criticisms regarding the lack of spontaneity in this early approach, Pivotal Response Training was subsequently developed and uses children's own choice of games and activities to reinforce the correct answers expected by the professional; this type of training also favours providing complete or incomplete forms of attempts to respond, alternating between acquisition and maintenance, and using intrinsic reinforcers [10]. Additionally, the Treatment and Education of Autistic and related Communication handicapped CHildren (TEACCH) program emphasizes a close working relationship between parents and practitioners, adapts the intervention to the characteristics of the child and uses structured teaching educational techniques [11].
Alternatively, developmental approaches start from the specific interests and resources of the child and aim to restore the global developmental process to increase communication skills and learning ability. One example is the Son-Rise Program®, developed in the early eighties, which was essentially based on "joining" the child, playing with him and following his cues. This program has been followed by tens of thousands of families in the U.S.A., and a recent study based on 5 days of intensive treatment of 6 children showed encouraging results [12]. Other developmental interventions based on play therapy have conceptualized the relationship between playing and child development, such as Floor Time [13, 14] or in France, "Exchange and Development Therapy" (EDT), which was developed in the 1990s by Lelord [15]. Floor Time consists of sequences of guided play (15–20 min) that are repeated several times by parents throughout the day and are supervised by an expert. Floor Time is the core of the Developmental, Individual Differences, and Relationship-based (DIR) method. DIR focuses on individual developmental differences in a child's emotional functioning, information processing, motor planning and types of interactions. The DIR method recommends following the child's lead and supporting his/her initiative; focusing on joint attention; closing circles of communication; creating semi-structured problem solving approaches; contrasting repetitiveness with playful obstruction; supporting visual attention; and working on imitation [16, 17].
Some methods mix elements of developmental play therapy with a structured and behavioural teaching approach. The Braintraining method [18] associates guided play time with teaching material depending on the specific developmental stage of the child's playing ability. Multi-sensory activities help increase the child's level of multimodal integration, overcoming difficulties that would restrict the development of more sophisticated cognitive skills such as symbolic play, language and social understanding. The Early Start Denver Model (ESDM) is an early and intensive intervention approach for young children that combines developmental and behavioural approaches. This method was evaluated in a randomized control trial with 48 toddlers [19], and the study showed that ESDM effectively improved cognitive and adaptive behaviour and reduced the severity of ASD diagnoses. A complementary electro-physiologic study suggested that a certain normalization of brain function was associated with clinical improvement [20]. In recent years, the ESDM has aroused great interest; for example, a study on at-risk infants suggested increased developmental abilities and a decrease in autism severity after 3 years of ESDM treatment [21]. Some behavioural therapists have also tried stimulation with small children using their favourite games and activities and showed a sustained improvement in social interactions [22]. Thus, the concept of triggering developmental processes in children with ASD has advanced in the scientific community.
In France, health facilities often provide institutional approaches to develop relational skills through various activities and therapeutic mediations, in groups or individually [23]. These approaches have increasingly been associated with structured tools from an integration perspective; for example, the ESDM has recently been integrated into the French health care service [24]. A previous review highlighted the diversity of practices in France but also the lack of published data on the effectiveness of these institutional strategies [25]. A French multicenter study is currently underway to evaluate the effectiveness of an integrated, individual, intensive structured teaching program provided to children with ASD and moderate intellectual disability (ID) in institutional care [26].
Beyond the diversity of individual approaches, an analysis of the literature has provided some important guidelines for improving the treatment of ASD children [27], including the following: i) Diagnose and start interventions early; ii) provide at least three or 4 hours of treatment each day; iii) center interventions on family involvement, placing parents in a position that allows them to actively participate in the education of their child; iv) provide regular updates on progress and subsequent goals; v) choose between behavioural or developmental treatment depending on the child's response; vi) encourage spontaneous communication; vii) include interactions with peers as soon as possible; viii) help extend the acquired skills to various environments and natural contexts; and ix) support positive behaviours rather than tackling challenging behaviours [25, 27]. Notably, previous studies suggested that involving the family in the treatment of the child promoted the therapeutic effect. For example, in a French study on a 20-month home-intensive method involving the family, 25 children progressed from 6 to 25 points in their developmental quotient [28]. In addition, a randomized controlled Australian study showed that parental involvement through home-specific work promoted the efficiency of treatment [29, 30]. Similar results, showing beneficial effects of parental contribution in early intervention, have been published and highlight the importance of parental involvement in treating ASD [30–32], even for long-term outcomes [33].
In this study, we examined a developmental, Individual, Interactive and Intensive approach to treat ASD comorbid with ID called the '3i method', which was based on the playing ability of the child and included the family. As this play therapy was meant to stimulate developmental processes, the child's progress was analysed by a psychologist through regular team meetings, considering the normal developmental pattern of a child of his/her developmental age. Here, we present a prospective exploratory study that aims to assess the outcome of 20 ASD subjects who followed the 3i method for 24 months. Using appropriate scales, we estimated the course of developmental and behavioural skills and autism severity after 2 years.
Discussion
Our sample consisted of a population of children who are rarely studied because they presented with severe ASD (mean CARS = 44.5, Table 1) with moderate to severe intellectual disability (mean developmental quotient based on PEP-R = 35.3 +/− 13.1) at the start of the study. In fact, numerous studies choose to exclude children with a developmental quotient (DQ) below 35 [19]. Our results showed that after 24 months of the 3i method, our sample of 20 patients globally progressed in different skills including socialization, communication, perception and imitation. In line with these developmental changes, the severity of ASD significantly decreased: after 2 years of treatment, 26% of the subjects moved below the CARS threshold proposed for ASD (Table 4). Accordingly, several ADI-R diagnoses changed: although all patients were initially diagnosed with autistic disorder (AD), after 2 years of the 3i method, 9 out of 19 (47%) had an improved diagnosis. These results appear to be encouraging, in particular because of the relatively old age of the subjects and the lower cognitive profile (mean DQ = 35) compared to well-designed randomized trials previously published [19].
Interestingly, the VABS socialization change ratio was positively correlated with the total duration of receiving the 3i method. This correlation may indicate one major effect of the 3i method. This variable was the only principal outcome that continued to significantly increase in T2 compared to T1. Indeed, the 3i method involves the use of multiple volunteers interacting several hours a day with the child. This intensive relationship may increase the socialization of the subjects in proportion to the hours spent in the playroom. This result may highlight one of the major interests of the 3i method for treating ASD children.
By contrast, no correlation between the subjects' age and the overall decrease in ASD severity/diagnosis or their progress in developmental skills was found. We also compared the progress of children aged < 6 years (N = 16) with those of children aged > 7 years (N = 4). In accordance with the correlation test results, no statistically significant differences were observed between these two groups except for the imitation scale results (Additional file 2: Tables S1 and S3). This last result suggests that younger 3i patients may present a better improvement of imitation skills compared to older patients. However, the age effect should be retested with a larger cohort to increase the statistical force. Overall, chronological age does not appear to be a determinant of the success of the 3i method.
Comparing the 3i (individual, interactive and intensive) method with other ASD children interventions
Individualising the intervention through considering the developmental stage and specific needs of the child can occur via the one-on-one context and the focus on the child's development through meetings with the psychologist of the 3i method. Studies on the Denver approach [19] support the idea that using a developmental perspective is more efficient. Our prospective study, similar to our previous retrospective study on 120 patients, is in line with this view.
Playing as a support for interaction
In terms of play therapies and the 3i method, Gardziel et al. previously commented on the positive aspects of the 3i method and described its beneficial effects on one ASD patient [35]. In another study, the progress of 3 ASD patients treated with the 3i method was assessed using the BECS, PEP-3 and CARS [47]. After 2 years of receiving the 3i method, the 3 children showed a positive evolution: they had less invasive autistic disorders and communicated and interacted more with others. Additionally, a retrospective single case study on a 2-year-old boy treated for 30 months with the 3i method reported a 9.5 point decrease in his CARS score, placing him below the threshold for autism; furthermore, his 3 ADI-R scores, which were all impaired at baseline, were shown to be out of the autistic diagnosis range when assessed after 10 years of follow-up (Astrup O: An individual study of an autistic child over a nine years period using the 3i method, in preparation). Finally, another retrospective study on 120 children treated for 2 years with the 3i method (Favrot C, Saint-Georges-Chaumet Y, Saint-Georges C: Evaluation of the efficiency of the 3i method from a retrospective archive study on 120 children diagnosed with Autism Spectrum Disorders, submitted) and assessed by a skill-building stage scale seems to be in line with our results: on average, the subjects acquired a higher stage of competence in four of the six skill areas (Imitation, Gaze Quality, Social and Emotional Regulation, Verbal Expression, Non-Verbal Expression and Verbal Comprehension), with a greater increase in the skills of imitation and non-verbal communication. The present study prospectively shows for the first time the benefit that ASD patients can receive from intensive play therapy with the 3i method. These results are in line with those of other studies on play therapy: Floor Time [14, 17], "Exchange and Development Therapy" [15], and SonRise [12]; ESDM also partially uses play therapy components. All these play therapy methods share a developmental vision in which the child can succeed in building relational abilities through repeated experiences in individual relationships with responsive, joyful and empathic adults, before learning to face other children. This primary dyadic context may be crucial for the development of the first stages of relational abilities. In the Floortime study, the 31 children who received 14 weekly hours of play with their parents progressed in skills within 1 year at the Functional Emotional Assessment Scale (FEAS) and at the Functional Emotional Developmental Questionnaire (FEDQ) and exhibited a mean decrease of 3 points in their CARS score. The SonRise study showed a significant effect of an intensive week (40 h) of treatment in 6 children (compared to 6 control children) on interaction and communication measures. All these studies support the idea of efficiency of stimulating through a play adapted to the developmental level of the child, and our results are in line with that view.
Play support, tailoring to child developmental level and structuration are aspects of the 3i method that are similar to "Exchange and Development Therapy" (EDT) [15]. Thirty-five children aged 2 to 7 years old treated with this method for a 9-month period improved their skills in imitation, joint attention and interaction (on the BECS scale) and exhibited a decrease in interaction and communication disorders (in the ECA-R). Although the mean age, scales and length of observation differ, these results are congruent with those of our study. However, although the EDT children had a few sessions per week and received other interventions simultaneously (day-care hospital, school inclusion, etc.), intensivity (at least 30 h a week) and the use of volunteers at home are specific in the 3i method. This study suggests that a developmental play-therapy method can be intensive without mobilizing many professionals and alone is able to allow the child to progress in key areas of development.
Intensivity (several hours a day) is recommended by Narzisi [27] based on his literature review. Behavioural approaches and the Denver Method often stress this need for intensivity. Once autistic syndrome is installed and stable, repetition of therapeutic interactive experiences may be crucial to allow new functioning and new brain circuitry to develop and finally outgrow autistic functioning. This study, similar to the SonRise study [12], shows that play-therapy can be intensive and provides encouraging results.
Parental implication
Another interesting point that makes the 3i method different from SonRise or EDT is the importance of including parents in the therapy. In the 3i approach, parents must recruit volunteers, accommodate them at home and coordinate their interventions; they sometimes participate in planning the intervention themselves. They are involved in the care and thus are led to change their comprehension of their child and the quality of their daily interactions with them. As mentioned in the introduction, some studies have reported a positive impact of parental participation [29–32, 47]. Their inclusion may help extend the beneficial effects of treatment even outside the time allotted for therapy. Our study again underlines the benefit of involving parents. However, for the 3 patients who were treated in a centre instead of in their private homes, no significant differences were found in their outcomes compared to those of the 17 home-treated patients. These data suggest that the place of intervention may not affect the treatment outcome, but additional data are necessary with a larger sample to really assess this effect.
Voluntaries intervention
Interacting with ASD children represents the utmost difficulty. In the 3i method, the presence of volunteers, non-professionals and their large number is an asset, for several reasons. First, as a play-based method in which it is crucial to adapt to the level of the child and be creative, the large number of volunteers allows them to spend only 1.5 h twice a week and consequently not be exhausted by the bewildering behaviours of the child, allowing them to remain creative and at the child's disposal. This short time spent with the autistic child could be a powerful factor to prevent the adult's discouragement and the corresponding withdrawal effects that may occur in the child when he perceives the negative or depressed attitude of the adult. Second, it is an ecological framework because the team of volunteers consists of a few family relatives (parents and grandparents) and other adults chosen by the parents in their immediate environment. This allows the child to be part of his social and cultural life, favouring insertion and recognition in a community. Moreover, this team, which is quite diverse in age and sex, corresponds to the population that the child will encounter in ordinary life. The group of volunteers represents a first positive and warm social experience, allowing the child to socialize gradually in a friendly living environment.
Specificities and prospects for education
A progression to higher scores in our sample was observed in VABS socialization (90% mean increase), PEP-R imitation (+ 61%), Nadel imitation (+ 49%) and ADI interaction (− 45%). These results are consistent because socialization, imitation and interaction are domains that appear to be directly or indirectly linked. Interestingly, although these children had not been "socialized" at school, the greatest improvements were observed in socialization. Peer-to-peer immersion is thus not the only way to "socialize", and an alternative method could be used to improve interactive and relational functioning in a privileged system with responsive adults before joining the school system. This suggests that first acquiring the ability to be in a relationship, before learning how to adapt to peers and an institution, may be beneficial for ASD patients. This reflects the specific aim of AEVE: to promote the socialization and communication of ASD children to allow them to integrate into a regular school system.
Limitations of the study
must, however, be noted. First, this was a prospective non-controlled study. Indeed, from an ethical and practical point of view, it was impossible to find subjects who had not received any ASD treatment for 2 years. However, in the absence of a control group, we attempted to compare our results with data from Baghdadli et al., 2012, over a 3-year period [
48
]. The authors used CARS and VABS tests to assess the mean developmental trajectories of autism severity and adaptive behaviours in 152 children (mean age 4.9) who were treated with various interventions (median 28 h/week, including schooling, educational therapy, physiotherapy and speech therapy) in dozens of French centres. Figure
3
shows that the slope of CARS decreases 5.23-fold more in 3i children compared to Baghdadli's cohort (Fig.
3a
). Considering changes in VABS developmental ages (in months) in 3i children compared to Baghdadli's cohort, communication scores increased 1.29-fold less (Fig.
3b
), socialization scores increased 1.76-fold more (Fig.
3C
) and autonomy scores increased 1.13-fold more (Fig.
3D
). These data suggest that although progress in communication and autonomy seem to be equivalent between the 3i method and various other treatments, progress in socialization may be noteworthy with the 3i method. In addition, the overall autism severity assessed by CARS seemed to decrease importantly in 3i patients compared to Baghdadli's cohort. Another limitation of this study was the limited size of our sample. Although our previous retrospective study showed a positive evolution in 120 children (Favrot C, Saint-Georges-Chaumet Y, Saint-Georges C: Evaluation of the efficiency of the 3i method from a retrospective archive study on 120 children diagnosed with Autism Spectrum Disorders, submitted), a prospective controlled study in a larger sample is necessary. The large age range could also limit the statistical power and interpretation. However, excluding older patients would have decreased the inclusivity. Regardless, age did not seem to affect the outcomes in our study (Additional file
2
: Tables S1 and S3). A larger study would be necessary to confidently state the effect of age on the 3i method's efficiency. Finally, the 3i method is to be considered an experimental intervention in ASD. The method is still not manualized and standardized. However, 3i Method has been described in English [
49
], and the AEVE has developed a typical training program for psychologists enriched by filmed training materials. Hence, the replication of the 3i method is possible all over the world provided that national ASD experts are appropriately trained in France (to ensure easy recruitment and supervision of volunteers, setting-up of play rooms and monitoring of patients) and then become 3i trainers in their country. The 3i method has been already replicated in Poland at the request of the Malta Center for handicapped children in Cracow [
35
,
37
]. One Polish ASD professional was trained in France and then provided 3i training to all professionals of the Center, where the 3i method became the primary therapy for autism. In subsequent years, the Malta Center expanded the "METODA 3i" to various locations in Poland (centers, schools, foundations in Cracow, Lublin; Warsaw, Hrubierszów and Bydgoszcz) under the conceptual and educational supervision via "AEVE Poland".This supervision is operated through organized exchange of information and the annual visit of a French 3i expert. Moreover, the method is well known by local Universities of which many students are volunteer in 3i teams. Since September 2017 the 3i method is also replicated in Volos (Greece) by a Greek psychologist trained in France. Lastly, two teachers of a school for mentally handicapped persons in Hangzhou (China) were 3i trained in November 2017, with a view to implementing the method in this school. Thus, 3i method could be developed in various countries and represent cost-effective alternatives. Manualizing the method in the future is highly considered.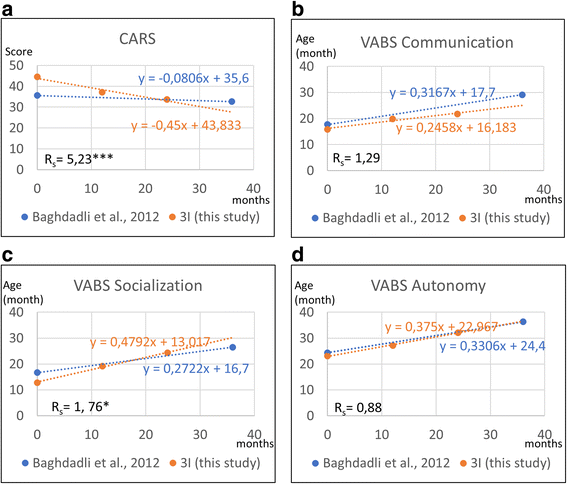 Conclusions
This is the first prospective study to suggest the positive effects of the 3i method on behavioural and developmental skills and on ASD severity. The results presented in this study are in line with previous retrospective studies on the 3i intervention. They are also consistent with other methods using play therapy but may represent an advantage of the 3i method because it is less expensive. Further studies are necessary to support these initial results.
Abbreviations
ABA:

Applied behaviour analysis
AD:

Autistic disorder
ADI-R:

Autism diagnostic interview - revised
AEVE:

Association autisme espoir vers l'Ecole
ASD:

Autism spectrum disorders
CARS:

Child autism rating scale
DIR:

Individual differences and relationship-based
DQ:

Developmental quotient
DSM:

Diagnostic and statistical manual of mental disorders
EDT:

Exchange and development therapy
ESDM:

Early start denver model
ID:

Intellectual disability
NIS:

Nadel imitation scale
PDD-NOS:

Pervasive developmental disorder-not otherwise specified
PEP-R:

Psycho-educational profile – revised
TEACCH:

Therapy of education of autistic and related communication handicapped cHildren
VABS:

Vineland adaptive behaviour scale
Declarations
Funding
This work was supported by the Fondation Bettencourt Schueller, the Fondation Dehecq Institut de France, the Fondation Paul Parquet and the Fondation Antoine de Saint-Exupéry pour la Jeunesse. None of these funding bodies have a role in the in the design of the study collection, analysis, and interpretation of data and in writing the manuscript.
Availability of data and materials
The datasets used and/or analysed during the current study are available from the corresponding author on reasonable request.
Authors' contributions
Data collection: ET; Study design: CSG; Data analysis: YSGC, CSG, DC; Writing: CSG, YSGC, CF, AT, DC. All authors have read and approved the final manuscript.
Ethics approval and consent to participate
The protocol of this study was approved by the ethical committee (Comité de Protection des Personnes Ile de France 1) under the number 2014-Juin-13,594 and was registered by the French Agency for drug and health (ANSM) under ID RCB number 2014-A00542–45 and ANSM referenceB148558–31. A signed informed consent was required from the parents before the enrolments of the subjects.
Competing interests
ET is a psychologist paid by AEVE to assess patients. YSGC was paid by AEVE to perform the statistical analysis and to participate in article writing. CF, AT, DC and CSG declare no conflicts of interest.
Publisher's Note
Springer Nature remains neutral with regard to jurisdictional claims in published maps and institutional affiliations.
Open AccessThis article is distributed under the terms of the Creative Commons Attribution 4.0 International License (http://creativecommons.org/licenses/by/4.0/), which permits unrestricted use, distribution, and reproduction in any medium, provided you give appropriate credit to the original author(s) and the source, provide a link to the Creative Commons license, and indicate if changes were made. The Creative Commons Public Domain Dedication waiver (http://creativecommons.org/publicdomain/zero/1.0/) applies to the data made available in this article, unless otherwise stated.
Authors' Affiliations
(1)
Cabinet privéé, Bievre, France
(2)
Bioredac, Chambourcy, France
(3)
Regional Psychiatric Center for Child and Adolescent with Deafness, 1st intersecteur, Paris, France
(4)
Department of Child and Adolescent Psychiatry, Hôpital de la Pitie-Salpêtriere, University Pierre and Marie Curie, Paris, France
(5)
Institut des Systèmes Intelligents et de Robotiques, CNRS UMR 7222, Université Pierre et Marie Curie, Paris, France