Research article
Open Access
Open Peer Review
This article has Open Peer Review reports available.
A pragmatic controlled trial to prevent childhood obesity within a risk group at maternity and child health-care clinics: results up to six years of age (the VACOPP study)
BMC Pediatrics
BMC series – open, inclusive and trusted
2018
18:89
Received: 10 June 2017
Accepted: 15 February 2018
Published: 27 February 2018
Abstract
Background
Obesity in childhood appears often during the toddler years. The prenatal environment influences obesity risk. Maternal gestational diabetes, the child's diet, and physical activity in the first few years have an important role in subsequent weight gain. A study was conducted to evaluate effectiveness of a primary health-care lifestyle counselling intervention in prevention of childhood obesity up to 6 years of age.
Methods
The study was a controlled pragmatic trial to prevent childhood obesity and was implemented at maternity and child health-care clinics. The participants (n = 185) were mothers at risk of gestational diabetes mellitus with their offspring born between 2008 and 2010. The prenatal intervention, started at the end of the first trimester of pregnancy, consisted of counselling on diet and physical activity by municipal health-care staff. The intervention continued at yearly appointments with a public health-nurse at child health-care clinics. The paper reports the offspring weight gain results for 2–6 years of age. Weight gain up to 6 years of age was assessed as BMI standard deviation scores (SDS) via a mixed-effect linear regression model. The proportion of children at 6 years with overweight/obesity was assessed as weight-for-height percentage and ISO-BMI. Priority was not given to power calculations, because of the study's pragmatic nature.
Results
One hundred forty seven children's (control n = 76/85% and intervention n = 71/56%) weight and height scores were available for analysis at 6 years of age. There was no significant difference in weight gain or overweight/obesity proportions between the groups at 6 years of age, but the proportion of children with obesity in both groups was high (assessed as ISO-BMI 9.9% and 11.8%) relative to prevalence in this age group in Finland.
Conclusion
As the authors previously reported, the intervention-group mothers had lower prevalence of gestational diabetes mellitus, but a decrease in obesity incidence before school age among their offspring was not found. The authors believe that an effective intervention should start before conception, continuing during pregnancy and the postpartum period through the developmentally unique child's first years.
Trial registration
ClinicalTrials.gov NCT00970710. Registered 1 September 2009. Retrospectively registered.
Keywords
Childhood obesityPreventionDietPhysical activityInterventionGestational diabetes mellitusPragmatic
Background
The prevalence of obesity even among pre-school-age children has increased in recent decades, and this is a global trend [1]. Overweight and obesity prevalence is significant already in the pre-school years: 16.1% and 3.9% of five-year-old girls and 7.5%/3.0% of boys of the same age in Finland are reported to have overweight and obesity, respectively [2]. Early adiposity rebound (AR) has been found to be a marker of higher risk for obesity in children and youth; AR is the point of minimal body mass index (BMI) before the second rise in the BMI curve in childhood, normally between five and 7 years of age (AR is considered to be early if it occurs before the age of 5 years) [3, 4]. Pre-schoolers with obesity tend to become schoolchildren and teenagers with obesity, which leads to increased risk of cardiovascular disease in adulthood and to an intergenerational cycle of these health problems [5, 6]. Results of obesity treatment are not encouraging, and prevention of excess weight gain is considered the most effective way to reduce obesity prevalence both during childhood and in adulthood. Early-childhood obesity has a multifactor origin [7, 8]. Prenatal modifiable factors suspected to promote obesity are mother's obesity before pregnancy, gestational diabetes mellitus (GDM), and smoking during pregnancy, with another being excessive weight gain during pregnancy [7, 9–14], and GDM appears to increase the risk of obesity in offspring even in cases of normal birth weight [15–17]. Large-for-gestational-age newborns have been shown to have a higher risk of obesity; also, infant feeding, sleep duration, and rapid weight gain in the first few months have been shown to influence the risk of children gaining excess weight [18–27].
In light of these potential risk factors, obesity prevention should start early in life. The widespread problem of obesity calls for preventive means that can be integrated into existing health-care settings and also for changes in society that contribute to healthy weight gain in the population [7, 8]. Pragmatic trials are aimed at finding effective preventive programmes that could be incorporated into the usual health-care system [28]. Pregnant mothers and families with small children visit child-welfare clinics regularly in primary health care. They are also interested in the wellbeing of their offspring and hence are receptive to lifestyle counselling. Dietary and physical-activity habits are modifiable during the pre-school years [29, 30]. With lifestyle counselling, a significant effect can be achieved when the target group are known to be at risk of gaining excessive weight. Mothers at risk of developing GDM and their offspring are one such risk group [7]. This group includes pregnant mothers with overweight or obesity, mothers with a history of GDM, a macrosomic newborn or close relatives with type 2 diabetes [31]. These mothers may also have a hereditary predisposition to obesity and type 2 diabetes, with a high risk of passing these risks to their offspring.
To the best of our knowledge, no previous results have been published from intervention studies that have aimed primarily at the prevention of obesity among the offspring and that have started during or before the first trimester of pregnancy. This is at odds with the growing evidence that the time before conception, the prenatal and perinatal periods, and early childhood are the critical windows for effective prevention. Some obesity-prevention studies targeted at infancy have been reported on, with most involving short intervention and follow-up periods [32, 33]. The effect on children's adiposity or weight development, if any, has been found to be slightly positive [34–36]. Some randomised studies are still in progress [37–39]. There are a few studies, originally examining pregnancy outcomes such as excess weight gain during pregnancy, prevention of GDM, or postpartum weight retention, in which, additionally, the offspring's weight development was evaluated for 1–7 years of age [40–44]. Intensified counselling on diet and physical activity (PA) directed at mothers during the infant's first year resulted in offspring's slower weight gain by the age of 4 years in a cluster-randomised pilot study [45]. This intervention when applied during pregnancy did not have the same effect on offspring weight [41]. In a study by Gillman et al., treatment of mild GDM had no effect on the offspring's weight gain by age 4–5 years [40], and likewise no effect on pre-school weight gain was found for the gestational lifestyle intervention of the NELLI Study, the Lifestyle in Pregnancy and Offspring (LiPO) study, or the study by Vesco et al. of a weight-management intervention for limiting gestational weight gain (GWG) a in a group of women with obesity [42–44]. Evidence from the obesity-prevention programmes reported upon has shown that multifaceted intervention could be more effective than targeting a single behaviour [7, 32].
The main results of the controlled lifestyle intervention designed to prevent obesity before school age (the VACOPP, or Vaasa Childhood Obesity Primary Prevention, study) are reported here [46]. The setting of the study was maternity and child health-care clinics in the city of Vaasa, in Western Finland. The intervention started at the end of the first trimester for pregnant mothers and continued with their families until the child was 5 years old. The outcomes presented here cover the offspring's weight gain along with overweight and obesity incidence in the trial groups until the age of 6 years.
Results
The study flow is described in Fig.
1
. Roughly 700 women per year give birth in the city of Vaasa. In the intervention group, the offspring of 71 of the 127 mothers who started the intervention in pregnancy (56%) were still taking part in the study when the child was 6 years old (i.e., at the planned end of the study), with the corresponding figure for the control group being 76 out of 89 children (85%). Most of the dropouts were cases of moving to another city and hence being unable to remain in the study. We analysed baseline characteristics that might interfere with offspring weight development with regard to those children whose anthropometrics were available when they were 6 years old (
n
 = 147) and found no statistically significant differences between the groups (Table
1
). The baseline characteristics of children whose anthropometrics were available at age 1 year (
n
 = 185) have already been reported [
51
].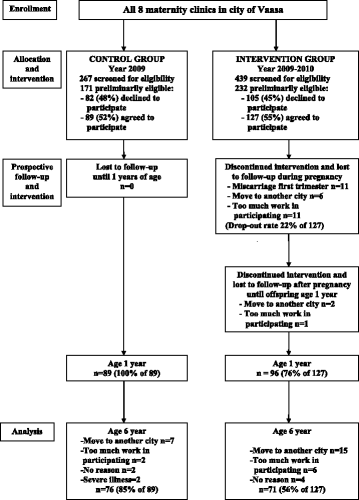 According to the linear mixed-effects model, the BMI-SDS slopes did not differ significantly between the intervention and the control group (the
p
-values for linear and quadratic interactions were 0.89 and 0.81) (Table
2
, Fig.
2
). Adding gender and mother's pre-pregnancy BMI to the model did not fundamentally affect the results. The proportions (expressed as percentage value deviation from the mean weight-for-height value in line with the Finnish definition of pre-school-age overweight and obesity) of children at the age of 6 years with at least overweight (≥ + 10% weight for height) or with obesity (≥ + 20% weight for height) were not significantly different between the groups. The result was the same when at least overweight and obesity were assessed as ISO-BMI (≥ 25 kg/m
2
and ≥30 kg/m
2
, respectively) (Table
3
). The difference in equivalent proportions of early adiposity rebound (< 5 years) between the two groups was not significant either (controls 34/45.3% vs. intervention 29/42.0%,
p
 = 0.69) (Table
3
).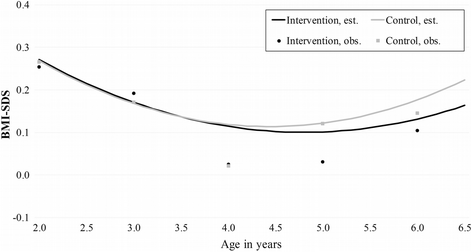 Discussion
The main result found for our pragmatic lifestyle intervention was a lower occurrence of GDM in the intervention group than in the control group, which result was reported earlier [51], [Table 1]. However, whether the intervention was effective in decreasing excessive weight gain among offspring remains an open question. The non-significant finding might be due also to the low power of the study causing failure to reveal differences between the groups. It has been shown that lower gestational glucose levels may be correlated with a child's lower obesity and type 2 diabetes risk [11, 12, 17]. Rapid weight gain during the first year of life has been demonstrated to predict risk for later obesity [22]. In our study, the offspring's weight gain up to 12 months of age did not differ significantly between groups, but there were slightly more children with overweight in the control group by 1 year of age [51]. Likewise, rapid weight gain in subsequent pre-school years seems to predict obesity in the school years [23]. In addition, early adiposity rebound has been shown to precede obesity in childhood and adulthood and to be a marker of cardiometabolic risk [3, 53]. In our study, no significant difference in the groups' proportions of early vs. normal AR was found, but the proportion of children with early AR in both groups was high, predicting the offspring having the same metabolic risk as their mothers. The proportion of children at the age of 6 years with obesity in both group was high as well (defined as weight for height 12.9% and 13.2%) [2]. These results confirm that our target group for such an intervention may be appropriately chosen.
The offspring's BMI was analysed and adjusted in accordance with the Finnish growth reference, for obtaining the SDS [50]. Weight gain was assessed with a linear mixed-effects model, which allows for a difference between the groups at baseline, intervention effects, and changes over time. No significant differences between the intervention and control group's offspring weight gain during the first year or up to 6 years of age were found. Given that improvements in foetal conditions – such as the mother having a better glucose balance during pregnancy – have been shown to correlate with a good effect on offspring weight gain that emerges in the toddler years. Based on this our intervention had potential to diminish children's overweight/obesity prevalence by age six [11, 12, 17]. However, as we have noted, the insufficient power of the study may have affected the results in this respect.
The overall dropout rate for the intervention group up to 6 years of age was 44% (Fig. 1). The most common reasons for dropping out were moving to a city out of reach of this intervention and the parents experiencing the study intervention or completing the questionnaires as too taxing. Furthermore, the recommendation to participate in blood tests every 2 years was felt to be too taxing for the child in many families, creating reluctance to take part in the study even despite the option of skipping the tests. The dropout rate in our study is acceptable in view of its longer-term intervention and follow-up. There were also dropouts in the control group (15% by age 6 years). It is possible that those families with the healthiest lifestyle and lowest risk of offspring's excess weight gain were more likely to remain in the study, thereby diminishing the difference in proportions of children with overweight and obesity between groups. However, the baseline characteristics were comparable between groups at both 1 year and 6 years of age.
Our target group was mothers at risk of developing GDM and their offspring with a higher risk of unhealthy weight gain. The intervention extended across foetal, infant, and pre-school life, known times of risk for development of obesity. Almost 98% of the mothers in Finland visit municipal maternity health-care facilities, and the high participation percentage holds for child health-care clinic visits. If the intensified counselling is offered during these routine visits, the at-risk families are conveniently reached. However, those routine visits to child health-care clinics take place only once a year, which may entail too light an intervention for this risk group. Also, evidence is growing that intervention for this purpose should start even before pregnancy, to improve the mother's metabolic health and hence a better prenatal environment in regard of the child receiving a healthier epigenetic heritage [54]. One marked problem is how to reach the risk group with childbearing potential for intensive counselling before pregnancy. Child health-care clinics may be a useful environment for targeting mothers with small children before pregnancy, but this is not true for first-time mothers. In addition, since obesity tends to begin in the early years, focusing more intensive lifestyle counselling also on offspring age 0–2 years within risk-showing families could be effective.
Our study had several limitations. It was not randomised, and the power may not have been sufficient to reveal statistically significant results. We believe also that, as the difference in study-group BMIs proved to be so small, precise primary power calculations would not have shown the number of participants to be sufficient for statistical significance in this intervention trial. An additional factor is that we wanted to perform the trial in this specific relatively large city in Finland, where the protocol is the same across all maternity health care, thereby primarily comparable in that regard. For this pragmatic trial, a randomised controlled design was not considered feasible, because the randomisation process would have been very likely to further reduce the rate of participation in the trial. A case-control study design is the choice in intervention studies when randomisation is not feasible and the study groups are matched as in our study (Table 1). The study design was discussed also in the protocol article [46]. The control group was prospective only from offspring age of 1 year, which may have caused some bias in the results; however, our choice may also have eliminated a possible Hawthorne effect on the control group during the intervention during pregnancy. As is the case with any pragmatic trial, the effectiveness of the counselling situation as a whole might have varied greatly. For example, the motivation of PHNs may vary, and the need for PHN deputies occasionally has an influence on counselling. The recruitment of the intervention group and the paperwork for the study were considered burdensome by some PHNs, mainly for reason of their busy work schedule. Allocating enough time for PHNs to manage the risk-group intervention appointments is crucial also.
One element of our study in its defence is its implementation in real-life practice, which demonstrates the counselling's ability to be a sustainable part of municipal health care. Also, the maternity and child health-care clinics have a good opportunity to identify those at risk for childhood obesity at a stage in life when favourable lifestyle changes promote the offspring's health most. Targeting the at-risk population in a setting that all families in this life situation visit eliminates the risk of stigmatisation. The costs of this study were quite moderate, and the results are generalisable to normal health care, because the study was realised as a part of usual practice at maternity and child health-care clinics.
Conclusions
Obesity with its expensive health effects and economic disadvantages challenges us to initiate solid preventive actions. Primary health-care, maternity, and child health-care clinics reach the beginning of the next generation. Preventive pragmatic trials in real-life settings are needed if we are to target obesity risk groups extensively and economically. In our study, the previously reported improved glucose tolerance during pregnancy demonstrated potential to have a good effect also on offspring weight gain. However, this effect could not be seen in the study. The offspring in both groups showed a high occurrence of early adiposity rebound and high prevalence of obesity, confirming their risk-group status. The knowledge now available suggests that preventive lifestyle interventions should start even before conception, to be able to influence the foetal environment effectively, and also focus on the child's first 2 years, to cover this time with its special risk for obesity development. In addition to applying the right timing, there may be a need for putting more effort and time into the intervention if it is to result in obesity prevention in children in pragmatic settings in health care.
Abbreviations
AR:

Adiposity rebound
BMI:

Body mass index
CI:

Confidence interval
GDM:

Gestational diabetes mellitus
GWG:

Gestational weight gain
PHN:

Public-health nurse
SDS:

Standard deviation score
Declarations
Acknowledgements
We thank the participating families, the public-health nurses at the maternity health-care clinics, and dieticians Diana Markus and Terhi Markkula and physiotherapists Minna Backman and Tuire Rahko-Kinnari at the Vaasa health centre. We also thank research nurses Tiia Krooks and Jenni Siirilä, who participated in the recruitment and training of PHNs for the intervention counselling. In addition, we are grateful to the administrative department for Vaasa municipal health care, especially Dr. Leena Kettunen, for the positive attitude to our study and for being a great help in realising it. Their contribution made this research possible. Thanks also to Marja-Terttu Saha, MD, PhD, who aided in the design of the study.
Funding
This project was funded by the Foundation of Paediatric Research (Finland), The Medical Research.
Fund of the Hospital District of Southern Ostrobothnia (project VTR18), and the Paediatric Research Centre (Tampere, Finland).
Availability of data and materials
The datasets used and analysed during the study are available on reasonable request to the corresponding author.
Authors' contributions
TM and PK contributed to the design and conception of the study. TM coded the data. TM, RL, PK and JR participated in drafting and revising the manuscript. JR and TM performed the statistical analysis. TM, JR, PK and RL participated in the interpretation of the data. All authors had full access to all of the data (including statistical reports and tables) in the study and can take responsibility for the integrity of the data and the accuracy of the data analysis. All authors read and approved the final version of the manuscript.
Ethics approval and consent to participate
Ethics approval for the study was granted by the ethics committee of the Hospital District of Vaasa. Informed written consent was provided by all participating mothers prior to the baseline assessments.
Consent for publication
Not applicable.
Competing interests
The authors declare that they have no competing interests.
Publisher's Note
Springer Nature remains neutral with regard to jurisdictional claims in published maps and institutional affiliations.
Open AccessThis article is distributed under the terms of the Creative Commons Attribution 4.0 International License (http://creativecommons.org/licenses/by/4.0/), which permits unrestricted use, distribution, and reproduction in any medium, provided you give appropriate credit to the original author(s) and the source, provide a link to the Creative Commons license, and indicate if changes were made. The Creative Commons Public Domain Dedication waiver (http://creativecommons.org/publicdomain/zero/1.0/) applies to the data made available in this article, unless otherwise stated.
Authors' Affiliations
(1)
Seinäjoki Central Hospital, Seinäjoki, Finland
(2)
UKK Institute for Health Promotion, Tampere, Finland
(3)
Faculty of Social Sciences, University of Tampere, Tampere, Finland
(4)
Pediatric Research Centre, 33014 University of Tampere, Tampere, Finland
(5)
Tampere University Hospital, Tampere, Finland