Research article
Open Access
Open Peer Review
This article has Open Peer Review reports available.
Psychological adjustment and quality of life in children and adolescents following open-heart surgery for congenital heart disease: a systematic review
Received: 28 May 2008
Accepted: 22 January 2009
Published: 22 January 2009
Abstract
Background
Children with congenital heart defects (CHD) requiring open-heart surgery are a group at high risk for health-related sequelae. Little consensus exists regarding their long-term psychological adjustment (PA) and health-related quality of life (QoL). Thus, we conducted a systematic review to determine the current knowledge on long-term outcome in this population.
Methods
We included randomized controlled trials, case control, or cohort studies published between 1990–2008 evaluating self- and proxy-reported PA and QoL in patients aged between two and 17 years with a follow-up of at least two years after open heart surgery for CHD.
Results
Twenty-three studies assessing psychological parameters and 12 studies assessing QoL were included. Methodological quality of the studies varied greatly with most studies showing a moderate quality. Results were as follows: (a) A considerable proportion of children experienced psychological maladjustment according to their parents; (b) studies on self-reported PA indicate a good outcome; (c) the studies on QoL suggest an impaired QoL for some children in particular for those with more severe cardiac disease; (d) parental reports of psychological maladjustment were related to severity of CHD and developmental delay.
Conclusion
A significant proportion of survivors of open-heart surgery for CHD are at risk for psychological maladjustment and impaired QoL. Future research needs to focus on self-reports, QoL data and adolescents.
Keywords
Psychological AdjustmentGreat ArteryHypoplastic Left Heart SyndromeBehavioral DifficultyCongenital Heart Disease
Background
Congenital heart disease (CHD) occurs in 4–12 per 1,000 live births [1, 2]. More than one third of the affected children are born with "critical heart disease" denoting malformations, which acutely threaten life and necessitate palliative or corrective surgery in early life [3]. Advances in surgical and postoperative support techniques have significantly reduced the mortality and have lead to acceptable mid- and long-term cardiac outcome even for children with complex CHD, premature or low-birth-weight children [4–8]. Various risk factors for long-term morbidity have been identified. Particularly, cardiopulmonary bypass surgery is associated with inflammatory responses, renal, myocardial, and neurological injury [9] and may consequently lead to neurodevelopmental impairments [10, 11]. While open-heart surgery can correct or palliate CHD, it also represents the challenge of psychologically adjusting to the surgical event and associated side effects for the child and the parents. Moreover, the question arises as to how quality of life in these patients is affected by the surgical event.
There is an increasing body of literature addressing these questions. Many studies have examined neuropsychological functioning, behavior and quality of life in children and parents. However, methodological shortcomings make it difficult to compare studies. They vary greatly in study design, inclusion criteria, assessment of risk factors, duration of follow-up, attrition and in particular in outcome measures. Thus, a systematic review of the existing literature is needed to summarize the evidence on psychological outcome and quality of life and the pertinent risk factors.
To facilitate the understanding of this review, the relevant terminology is briefly introduced: The assessment of psychological adjustment incorporates a range of outcome measures including behavioral, emotional or psychosocial constructs. A common approach differentiates between internalizing and externalizing behavior difficulties [12]. The former are characterised by symptoms of anxiety, depression, and withdrawal, while the latter include delinquent, aggressive, and show off behavior.
Quality of life (QoL) is a multidimensional construct integrating an individual's subjective perceptions of physical, social, emotional and cognitive functioning [13]. In the context of patient populations this is referred to as health-related quality of life. Traditionally, QoL in cardiac patients has been estimated by objective indices related to health outcomes such as cardiopulmonary exercise capacity [14], exercise tolerance [15], or the New York Heart Association classification. However, meanwhile there is a general agreement that these indices alone do not suffice to reflect QoL in cardiac patients in all its facets [16].
Psychological adjustment and QoL can be assessed by means of self- or proxy-reports. Generic as well as disease-specific assessment instruments exist. The former are used with any patient population independent of their disease, while the latter assess disease-specific issues. Some instruments combine generic with disease-specific items.
This review aims to systematically assess studies on psychological adjustment and QoL in children and adolescents with CHD undergoing cardiopulmonary bypass surgery. Also, associations between medical, individual and familial risk factors and the long-term outcome were evaluated.
Methods
Search strategy and selection criteria
For the period between January 1990 and July 2008 a literature search was conducted via EMBASE, MEDLINE, CINAHL, and PsycInfo to identify eligible studies and review articles. We chose this rather short period to reduce the variance in observed outcomes due to time-dependent advances in surgical techniques. Additionally, databases of dissertations were searched for (ProQest, NDLTD). Great effort was spent to identify the best search strategy for the respective databases aiming at a good ratio of overall hits and eligible studies. An initial search used the identifiers
congenital heart disease, congenital heart defect*
, the main diagnostic categories of CHD known to require cardiopulmonary bypass surgery (e.g.,
tetralogy of Fallot, transposition of the great arteries, hypoplastic- left heart syndrome, etc.), p*ediatrics, child*, adolescent*, adolescence, open-heart surgery, cardiac surgery, cardiopulmonary bypass surgery, heart-lung machine, arterial switch, atrial switch, Mustard, Senning, Norwood, Fontan, circulatory arrest, hypothermia, low flow, full flow, behavio*r, psychological, psychosocial, psychiatric, psychopathology, mental health, health, quality of life, health-related quality of life, adjustment, adaptation, emotional, development*, neurodevelopment*
. The Boolean operator "
and
" was used to combine identifiers for patient population, intervention, and outcome. The operator "
or
" was used to combine identifiers within those search areas. Adjustments in search strategies were made for CINAHL and PsycInfo as the initial search strategy was too specific and resulted in few hits only. Overall, the electronic search resulted in 732 hits. Reference lists of relevant studies and reviews were examined to identify other pertinent articles. Furthermore, investigators from the field were contacted to enquire about unpublished data. One reviewer (SH) pre-selected 84 articles according to the information obtained from titles or abstracts. Two independent reviewers (BL, MAL) blinded to the origin of the articles checked the full texts of these articles for inclusion according to a standardized predefined checklist. Inclusion and exclusion criteria are presented in Figure
1
. Since there were few studies where all patients were operated with open-heart surgery, we included those in which the majority of patients (> 50%) were operated with open-heart surgery. The follow-up period of at least 2 years was chosen to exclude the effect of acute psychological distress. In addition, we only focused on a pediatric population and thus included studies in which patients were on average younger than 17 years at the time of assessment. The other inclusion criteria were created to enable a meaningful conclusion regarding main effects and risk factors for PA and QoL. In case of missing information, corresponding authors were contacted. Accordingly, 23 studies on psychological adjustment and 12 studies assessing QoL were included. We did not identify any unpublished data eligible for inclusion.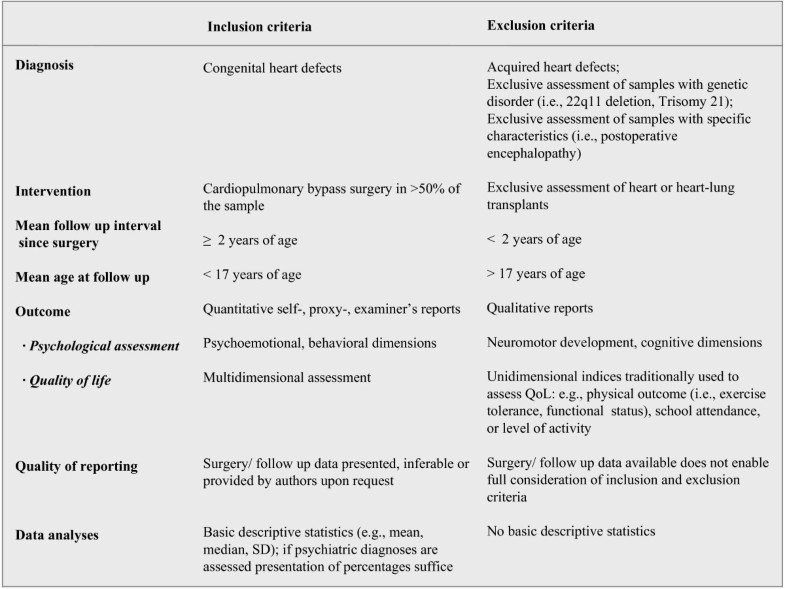 Quality assessment
Methodological quality of the included studies was rated by the two blinded reviewers (BL, MAL). A standardized checklist with criteria relating to recruitment, study design, operationalisation of outcome, and statistical analyses was used. Each criterion was rated on a two- or three-step scale indicating the degree of fulfillment with the respective criterion. The checklist is presented in Figure
2
. Overall scores ranged from 0 to 11 points with higher scores indicating a better study quality. Interrater reliability was excellent (Cohen's kappa = 0.91). In case of disagreement between the two reviewers, consensus was achieved. In addition, three quality groups were formed: good (score 9–11), moderate (score 6–8) and poor (score 0–5) quality.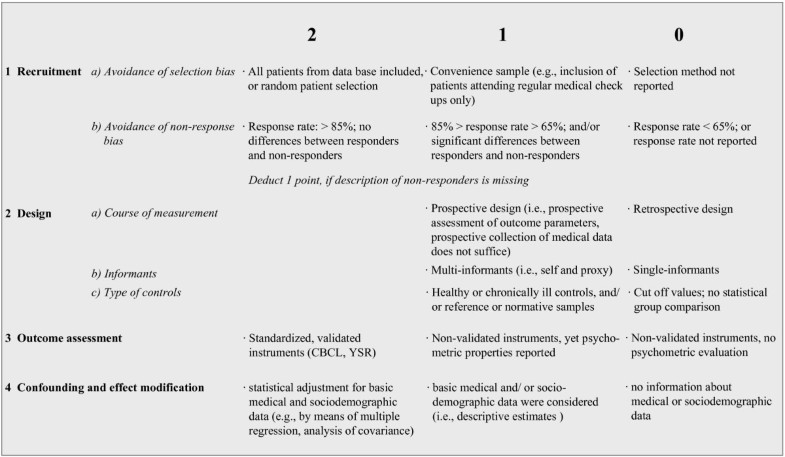 Data extraction and synthesis
Two independent reviewers (BL, MAL) extracted data on relevant outcomes, characteristics of study design, sample, and surgical technique. Study samples differed significantly with regard to severity of heart defect, age at time of surgery, number of operations, postoperative course, or age at follow up. Moreover, as summarized in Table
1
, the operationalization of psychological outcome and QoL varied greatly as different constructs such as behavior, self esteem or mental health had been evaluated. Heterogeneity of assessment methods and differing presentation of the results did not permit formal meta-analysis. Therefore, findings are summarized in a narrative way. An overview of study characteristics, methodological quality ratings, and study results is presented in Additional file
1
and
2
[see Additional file
1
and
2
]. The mean (standard deviations; range) quality rating scores for studies on PA was 7.04 (1.33; 4–10); for studies on QoL it was 6.54 (1.45; 5–9). Overall, most studies reporting on psychological adjustment and QoL were of moderate quality (78%; 55% respectively); two studies in each area of research were rated as high quality studies (9%; 18% respectively) [see Additional file
1
and
2
].
Table 1
Overview of questionnaires and interviews applied in the reviewed studies to assess psychological adjustment and quality of life
| Diagnostic instruments | Studies (Reference numbers) |
| --- | --- |
| Psychological adjustment – semi-structured interviews | |
|    Child Assessment Schedule (CAS) | [19] |
|    Child Behavior Problems Interview (CBPI) | [18] |
| Psychological adjustment – proxy-report measures | |
|    Child Behavior Checklist (CBCL) | |
|    Teacher's Report Form (TRF) | |
|    Vineland Adaptive Behavior Scales (VABS) | |
| Psychological adjustment – self-report measures | |
|    Child Depression Inventory (CDI) | |
|    Children's Manifest Anxiety Scale-revised (CMAS-R) | [23] |
|    Fear Survey Schedule for Children-revised (FSSC-R) | [23] |
|    Frankfurt Scales of Self Concept (FSKS, German) | [34] |
|    High School Personality Questionnaire (HSPQ) | [34] |
|    I Think I Am Scale (ITIAS) | [18] |
|    Self Perception Profile for Children | [36] |
|    State-Trait Anxiety Inventory (STAI) | |
|    Youth Self Report (YSR) | |
| Quality of life | |
|    Child Health Questionnaire, parent form (CHQ-PF) | |
|    Child Health Questionnaire, child form (CHQ-CF) | [44] |
|    Inventory for the Assessment of the Quality of life in Children and Adolescents (IQLC) | [24] |
|    Lindström Model of Quality of Life (LMQL) | [42] |
|    LQ-KID and LQ-KID-E | [49] |
|    Pediatric Quality of life Inventory (PedsQL) | |
|    Pediatric Cardiac Quality of Life Inventory (PCQLI) | [50] |
|    TNO-AZL Child Quality of Life Questionnaire (TACQOL) | |
Results
Quality of life
Additional file 2 [see Additional file 2] gives an overview of the results of the 12 studies reporting postoperative QoL. In four of these studies QoL in children with operated CHD was comparable to that in normative samples according to proxy- [28, 41], self- [24] or combined reports [42]. These studies received quality ratings between 5 and 9 points. Another study observed a normal proxy-reported QoL in more than 90% of their sample based on cut-off values, yet this result was not based on inferential statistics [43]. One study observed a better self-reported QoL in a large sample of children with transposition of the great arteries undergoing surgery compared to healthy norms [44]. In this sample, corrective surgery included the atrial as well as the arterial switch operation. Children with arterial switch operation showed a better functioning compared to those with atrial switch. In contrast, four studies reported an impaired QoL in many self- and most proxy-reported dimensions [45–48]. Methodological quality in these studies varied between 5 and 9 points. Two studies did not report overall QoL, but examined the agreement between parental and self rated QoL [49] and the influence of two ventricle versus single ventricle physiology [50].
Two studies compared QoL of children with CHD with that of children with other chronic illnesses. In one study children with CHD after surgery experienced a better proxy-reported QoL [47], yet the opposite was found in another study [41].
As QoL is a multidimensional construct various subdimensions were evaluated across studies. A direct comparison between studies, however, cannot be made as different measures and concepts of QoL have been used (see Table 1).
Risk factors for impaired quality of life
The type of heart defect did not relate to QoL in a heterogeneous diagnostic sample [48] and in a small sample of children with transposition of the great arteries or hypoplastic left heart syndrome [28]. However, two studies found a lower QoL in children with more complex malformations [44, 47]. In a sample of children with single ventricle anatomy only few cardiac-specific factors were found to be related to QoL [46].
Considering surgery related factors cardiopulmonary bypass duration was inversely related to QoL in three studies [24, 44, 45] but not in other studies [43, 46]. Also, conflicting data exist on the effects of duration of circulatory arrest [41, 43, 44] or the number of cardiac surgeries [41, 46, 47]. No effects on QoL were found for vital organ support technique [41], cooling temperature [44], or age at surgery [43, 46]. Postoperative complications, length of hospital stay and current need for cardiac medication were negatively related to QoL in two studies [45, 46].
Individual characteristics sociodemographic factors such as sex [41, 48] or socioeconomic status [41, 45, 47] were not associated with QoL in children. However, Landolt et al. [45] found a higher self-reported QoL in boys compared to girls. Older age at follow up assessment was associated with a better QoL in two studies [47, 48]. Also, a higher IQ was related to better psychosocial QoL in one study [41].
Family characteristics children of parents who remained unemployed due to the child's health condition or children of families with a low income experienced a lower QoL than controls [46]. Finally, adverse family relationship [45] and parental stress at follow up [43] were both found to be negatively related to the psychosocial dimensions of QoL.
Discussion
This review is the first to systematically summarize the literature of the last 18 years on psychological adjustment and quality of life of children and adolescents with CHD following cardiopulmonary bypass surgery. Moreover, potential risk factors for psychological maladjustment and impaired quality of life are reported.
Conclusion
This review demonstrated that a significant proportion of children with CHD experience psychological maladjustment following cardiopulmonary bypass surgery. Children with more severe heart defects, or those in need of future surgical interventions and children with neurodevelopmental impairment are at particular risk for maladjustment. The QoL of these children appears also to be affected, particular with regard to parental reports. However, the literature on this important outcome is still emerging and disease-specific instruments have just been published. Importantly, parental well-being seems to be related to psychological adjustment in these children. This calls for an integrated approach to family support, taking the child's individual needs into account as well as the needs of the parents.
Declarations
Acknowledgements
This research was funded by a grant from the Foundation Mercator Switzerland.
Authors' Affiliations
(1)
University Children's Hospital Zurich, Child Development Centre, Zurich, Switzerland
(2)
Heidelberg University, Mannheim Medical Faculty, Institute of Public Health, Social and Preventive Medicine, Mannheim, Germany
(3)
Department of Pediatric Cardiology, University Children's Hospital ZurichUniversity Children's Hospital Zurich, Zurich, Switzerland
(4)
Department of Psychosomatics and Psychiatry, University Children's Hospital Zurich, Zurich, Switzerland
Copyright
© Latal et al; licensee BioMed Central Ltd. 2009
This article is published under license to BioMed Central Ltd. This is an Open Access article distributed under the terms of the Creative Commons Attribution License (http://creativecommons.org/licenses/by/2.0), which permits unrestricted use, distribution, and reproduction in any medium, provided the original work is properly cited.