Hypothesis

Open Access

Open Peer Review
This article has Open Peer Review reports available.
Pathogenesis of peroxisomal deficiency disorders (Zellweger syndrome) may be mediated by misregulation of the GABAergic system viathe diazepam binding inhibitor
Received: 13 November 2003
Accepted: 12 March 2004
Published: 12 March 2004
Abstract
Background
Zellweger syndrome (ZS) is a fatal inherited disease caused by peroxisome biogenesis deficiency. Patients are characterized by multiple disturbances of lipid metabolism, profound hypotonia and neonatal seizures, and distinct craniofacial malformations. Median live expectancy of ZS patients is less than one year. While the molecular basis of peroxisome biogenesis and metabolism is known in considerable detail, it is unclear how peroxisome deficiency leads to the most severe neurological symptoms. Recent analysis of ZS mouse models has all but invalidated previous hypotheses.
Hypothesis
We suggest that a regulatory rather than a metabolic defect is responsible for the drastic impairment of brain function in ZS patients.
Testing the hypothesis
Using microarray analysis we identify diazepam binding inhibitor/acyl-CoA binding protein (DBI) as a candidate protein that might be involved in the pathogenic mechanism of ZS. DBI has a dual role as a neuropeptide antagonist of GABA(A) receptor signaling in the brain and as a regulator of lipid metabolism. Repression of DBI in ZS patients could result in an overactivation of GABAergic signaling, thus eventually leading to the characteristic hypotonia and seizures. The most important argument for a misregulation of GABA(A) in ZS is, however, provided by the striking similarity between ZS and "benzodiazepine embryofetopathy", a malformation syndrome observed after the abuse of GABA(A) agonists during pregnancy.
Implications of the hypothesis
We present a tentative mechanistic model of the effect of DBI misregulation on neuronal function that could explain some of the aspects of the pathology of Zellweger syndrome.
Keywords
Fetal Alcohol Syndrome
Neonatal Seizure
Early Neonatal Death
Pipecolic Acid
Zellweger Syndrome
Presentation of the hypothesis
We suggest the following tentative mechanistic model for the pathogenesis of DBI misregulation in ZS (figure
2
):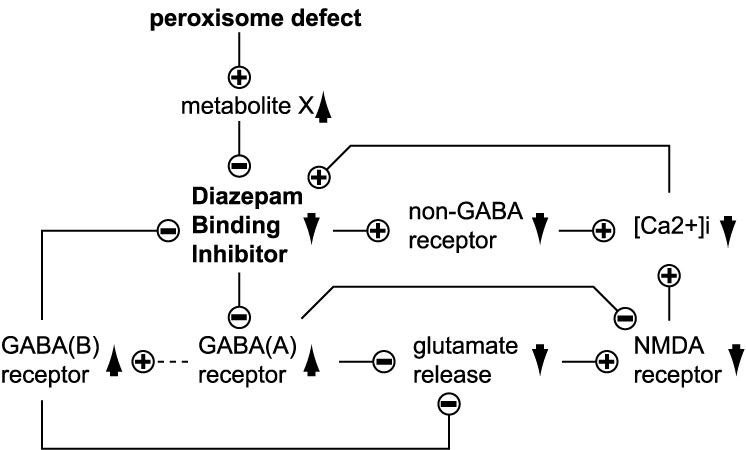 Peroxisome deficiency leads to an accumulation of peroxisomal metabolic intermediates (metabolite X), most likely acyl-CoA derivatives that are also disturbed by the single enzyme defects that cause ZS-like syndromes. Directly or indirectly, metabolite X causes an inactivation and down-regulation of DBI and a decrease in DBI release, possibly by replacing its physiological acyl-CoA ligands. Decreased activity of DBI affects two intertwined feedback loops. In the first loop, decrease of DBI releases the inhibition of GABA(A) receptor [60]. Overactivation of GABA(A) receptor inhibits glutamate release [61] and consequently causes a decrease in NMDA receptor-mediated glutamatergic signaling [62]. This in turn causes a lack of calcium release in the target cells and a deficiency of DBI secretion and expression [63]. The second loop starts by a decrease in DBI action on its non-GABA(A) receptor and a subsequent lack of DBI-stimulated calcium release [39, 40, 64]. Both pathways converge on the decrease in intracellular calcium, that results in an inhibition of DBI release [65] and closes the loop. A hypothetical ancillary loop could involve positive crosstalk between the over-activated GABA(A) receptor and its counterpart GABA(B), which is known to inhibit DBI release [66]. The two loops are not necessarily present in the same cells, and each of them may involve several adjacent cells. Also, different processing products of DBI act on intracellular calcium using different pathways [67], and may lead to additional differentiation of the DBI misregulation effect. The main feature is that both loops tend to enhance the down-regulation of DBI, thus amplifying and maintaining a small initial disturbance caused by the peroxisomal defect. Both loops involve a deficiency of NMDA receptor-mediated calcium release, in agreement with observations in ZS mouse models [8]. Gressens et al. (2000) found that administration of GABA at a concentration of 0.25 mg/kg twice a day had no effect on neuronal migration in peroxisome-deficient and control mice. This finding might indicate that the neuronal migration defect is mediated by the direct effect of DBI-derived peptides on intracellular calcium through its non-GABA(A) receptors.
Misregulation of DBI and the consequent disinhibition of GABAergic signaling should lead to diverse defects in various brain areas. A region of special interest is the inferior olive, which is malformed or absent in classical ZS. Olivary axon collaterals do not only innervate non-GABAergic neurons in the cerebellar nuclei, but also GABAergic nucleo-olivary cells, thus establishing a direct feedback loop to the inferior olive [68]. Purkinje cells, which show characteristic heterotopias in the cerebellum of ZS patients are also GABAergic [69, 70].
Furthermore, it has been demonstrated recently that excessive GABA(A) receptor activation by neurosteroids or benzodiazepines initiates a slow form of neuronal death in cultured hippocampal neurons [71]. This could be the basis of the increased neuronal apoptosis observed in ZS. It should also be noted that the suggested mechanism for ZS brain disturbances bears conceptual similarity to that for fetal alcohol syndrome, where a combination of NMDA blockade and GABA(A) over-activation leads to widespread apoptosis in the developing brain [72].
The observation of cleft palate in GABA signaling-deficient mouse models indicates that disregulation of the GABA(A) pathway might also be responsible for the malformation syndromes observed in ZS patients and in benzodiazepine embryofetopathy [58, 59].
DBI is an especially suitable candidate for ZS pathogenesis because it is shown to integrate signals from a variety of lipid-related pathways (fatty acids, sterols, steroids). Its restricted binding properties narrow down the search for a specific metabolite X that is responsible for the initial repression of DBI, and the feedback loops explain how even a slight disturbance that is common to all ZS-like syndromes can tip the balance towards a disinhibition of the GABAergic system, resulting in the severe disorders that are found in all patients.
Testing the hypothesis
The recent availability of several peroxisome-deficient mouse models provides an excellent opportunity to directly test the GABA/DBI model of Zellweger pathogenesis. This would involve a detailed analysis of DBI isoform levels in wild type and mutant brains, as well as a study of GABA agonist and antagonist effects, both in vivo and in neuronal explants. Additional in vitro studies could be used to determine the molecular details of DBI regulation and processing, to test the existence of the feedback loops postulated by the model. After the general mechanism has been established, identification of "metabolite X" would be crucial and could be achieved, e.g., by examining the effect of fractionated brain extracts on a DBI reporter cell line.
Implications of the hypothesis
Currently, no successful therapy for peroxisome deficient patients is available. Identification of a GABA component to the pathogenesis of Zellweger syndrome has obvious implications for the treatment of affected patients. Straightforward pharmacological intervention with well-known GABA antagonists could be used to counteract the misregulation and to interrupt the pathological feedback loop. In addition, even if the molecular details of the proposed mechanism turn out to be incorrect, consideration of an amplification of minor metabolic changes by positive feedback changes could influence the search for "metabolite X", which by implication of the present model would be a low-concentration intermediate that binds DBI, and hence is probably a Co-enzyme A thioester.
Conclusions
We suggest that peroxisomal deficiency leads to an unidentified disturbance of lipid metabolism that causes misregulation of the diazepam binding inhibitor, DBI. This misregulation affects two independent systems and is amplified by specific feedback loops: The DBI/GABA(A) system and the DBI/calcium system. The independence of the two systems agrees with the observation in peroxisomal beta-oxidation-deficient mice, where hypotonia and early death occur without neuronal migration defects. The activation and subsequent escalation of feedback loops would explain why several defects with a widely varying biochemical background lead to the same complex of symptoms.
Our rather simplistic model necessarily ignores many details that complicate the picture, e.g. we do not consider the regional and developmental heterogeneity in the GABAergic system (e.g. excitatory GABA action in early development and the enormous plasticity of the central nervous system that will result in important compensatory regulation phenomena. Also, relatively little is known about the functional distribution of DBI in the central nervous system and its autocrine vs. paracrine effects.
In fact, the DBI hypothesis is not able to explain all observations in peroxisome deficiencies. However, it seems that the DBI hypothesis is able to explain a larger part of the observations than previous ideas, e.g. the Pex11beta k.o. phenotype seems to follow naturally from the suggestion that slight initiating changes in a metabolite might lead to an escalating response via feed-back mechanisms. It is very well possible that the DBI hypothesis is incomplete and/or over-simplified (for example, explaining some differences between Zellweger and Zellweger-like syndromes might require postulating different mechanisms of action for DBI in these conditions) but we hope that even a partially correct hypothesis may be able to point research into a useful direction, e.g. concerning the importance of small perturbations amplified by misactivated feedback mechanisms.
The existence of several mouse models of ZS should allow for rapid testing and refinement of our idea that misregulation of DBI is involved in the pathogenesis of Zellweger syndrome.
Declarations
Acknowledgements
I thank Dr. D. Höller and Dr. S. K. Krisans for helpful discussions. This work was supported in part by National Institutes of Health grants DK58238 and DK58040.
Authors' Affiliations
(1)
Department of Biology, San Diego State University, San Diego, USA
Copyright
© Breitling; licensee BioMed Central Ltd. 2004
This article is published under license to BioMed Central Ltd. This is an Open Access article: verbatim copying and redistribution of this article are permitted in all media for any purpose, provided this notice is preserved along with the article's original URL.