Research article

Open Access

Open Peer Review
This article has Open Peer Review reports available.
Systematic literature review assessing tobacco smoke exposure as a risk factor for serious respiratory syncytial virus disease among infants and young children
Received: 21 September 2011
Accepted: 21 June 2012
Published: 21 June 2012
Abstract
Background
The role of environmental tobacco smoke (ETS) exposure as a risk factor for serious respiratory syncytial virus (RSV) disease among infants and young children has not been clearly established. This systematic review was conducted to explore the association between ETS exposure and serious RSV disease in children younger than 5 years, including infants and young children with elevated risk for serious RSV disease.
Methods
A systematic review of English-language studies using the PubMed and EMBASE databases (1990–2009) was performed to retrieve studies that evaluated ETS as a potential risk factor for serious RSV illness. Studies assessing risk factors associated with hospitalization, emergency department visit, or physician visit due to RSV (based on laboratory confirmation of RSV or clinical diagnosis of RSV) in children under the age of 5 years were included.
Results
The literature search identified 30 relevant articles, categorized by laboratory confirmation of RSV infection (n = 14), clinical diagnosis of RSV disease (n = 8), and assessment of RSV disease severity (n = 8). Across these three categories of studies, at least 1 type of ETS exposure was associated with statistically significant increases in risk in multivariate or bivariate analysis, as follows: 12 of 14 studies on risk of hospitalization or ED visit for laboratory-confirmed RSV infection; 6 of 8 studies of RSV disease based on clinical diagnosis; and 5 of the 8 studies assessing severity of RSV as shown by hospitalization rates or degree of hypoxia. Also, 7 of the 30 studies focused on populations of premature infants, and the majority (5 studies) found a significant association between ETS exposure and RSV risk in the multivariate or bivariate analyses.
Conclusion
We found ample evidence that ETS exposure places infants and young children at increased risk of hospitalization for RSV-attributable lower respiratory tract infection and increases the severity of illness among hospitalized children. Additional evidence is needed regarding the association of ETS exposure and outpatient RSV lower respiratory tract illness. Challenges and potential pitfalls of assessing ETS exposure in children are discussed.
Keywords
Respiratory syncytial virus
Respiratory infection
Tobacco
Smoking
Children
Background
Almost all children contract respiratory syncytial virus (RSV) by 2 years of age [1]. RSV causes upper airway infections, bronchiolitis, wheezy bronchitis, and pneumonia. Although most infections produce mild disease, RSV is a major cause of hospitalization in infants [2] and can be fatal [3]. Premature infants, infants with bronchopulmonary dysplasia (BPD) (chronic lung disease of prematurity), and infants with congenital heart disease are at risk for serious infections [4, 5]. Risk factors for RSV infection include exclusive bottle feeding [6, 7], having older brothers or sisters in the household [6, 8, 9], male gender [10], low birth weight [10, 11], prematurity [6], household crowding [12], and young chronologic age [9]. Although exposure to environmental tobacco smoke (ETS) is a risk factor for asthma, wheezing, decreased pulmonary function, otitis media, cough, and lower respiratory tract infections (LRTIs) in general [13], its role in the development of serious RSV disease among infants and young children is less clear and has been a topic of interest among the healthcare community [14].
In this systematic review, we evaluated the evidence of an association between ETS exposure and serious RSV disease among children younger than 5 years. To obtain the broadest understanding of whether ETS exposure affects the risk of serious RSV disease, we placed no limits on the type of proxy measures of ETS exposure. Understanding the evidence basis for ETS exposure and RSV could highlight the need to direct healthcare resources or intervention programs toward this potentially modifiable risk factor.
Methods
Patient population
In this systematic literature review, we included studies of infants and children up to 5 years of age, including studies of children at high risk for serious RSV disease. We defined the high-risk population as patients with prematurity, BPD, or congenital heart disease. All other patient populations were defined as general populations, which consisted predominantly of children not defined as high risk.
Search strategy
Following PRISMA guidelines, we conducted a systematic review of the association of ETS exposure with serious RSV disease by searching broadly for studies assessing various risk factors, including ETS exposure, for RSV, bronchiolitis, or LRTI caused by RSV or bronchiolitis.[15] We searched the PubMed (including MEDLINE) and EMBASE databases for English-language studies published and indexed between 1990 and April 2009. No additional relevant unpublished studies were obtained. Studies that identified ETS exposure as a risk factor might be more likely to mention ETS in the title or abstract than studies that evaluated ETS exposure in a set of other risk factors, but did not find it to be significantly associated with increased risk. To minimize article selection bias across studies, we searched for articles that assessed any risk factors for RSV as well as bronchiolitis, because 50% to 80% of winter bronchiolitis is due to RSV in infants and young children [1]. For PubMed, the National Library of Medicine Medical Subject Headings (MeSH terms) used in the search included tobacco smoke pollution/adverse effects respiratory syncytial virus infections bronchiolitis viral, and respiratory tract infections in combination with the MeSH subheadings epidemiology etiology, and complications. The MeSH heading respiratory tract infections was combined with the keywords syncytial or RSV OR bronchiolitis or the MESH term tobacco smoke pollution/adverse effects. Studies that included risk assessment were identified using the following MeSH headings: analysis of variance (which includes multivariate analysis), probability (which includes proportional hazards model, odds ratio, risk, risk assessment, and risk factors); and case–control studies or cohort studies, which were combined with the terms relative risk OR hazard ratio OR odds ratio. The search identified studies with the following combination of these terms: (1) any disease-related term plus any risk assessment term; or (2) any disease-related term plus the smoke exposure term. We did not search for unpublished studies or reports.
Study selection
Each relevant article was read by several authors and the bibliographies of included articles were reviewed for additional studies. We excluded studies that did not assess disease risk or did not include ETS exposure as a risk factor. Figure
1
presents a summary of exclusions and rationales for exclusion during successive rounds of review.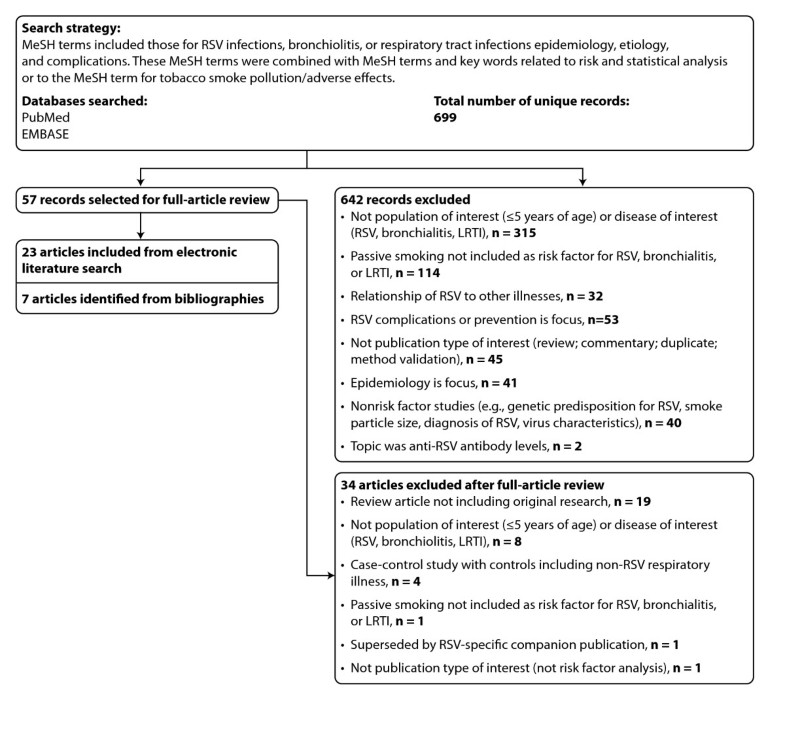 Data extraction
Study details were extracted into tables, and table content was verified by a second author and by a reviewer not involved in the data extraction. The authors discussed each article to reach consensus regarding the study details. For each study the following data were extracted: reference, publication year, country origin, study design, study population size and description, assessment method for ETS exposure (e.g., maternal smoking through birth certificate data), method of ascertainment of RSV status (if any, such as through laboratory confirmation or clinical diagnosis), disease outcome evaluated (e.g., hospitalization for RSV), and results and significance of multivariate, bivariate, and other statistical analyses. Outcomes related to the presence of RSV antibodies without evidence of hospitalization, ED visit, or physician visit related to RSV were not extracted. The principal summary measures were adjusted odds ratios (aORs), adjusted rate ratios (aRRs), or adjusted hazard ratios (aHRs) for multivariate analyses and odds ratios (ORs) for bivariate analyses. Several studies that did not perform multivariate analyses performed between-group comparisons and presented P values.
Assessment of risk of bias
Among the studies meeting the inclusion criteria, we evaluated the risk of bias at the outcome and study level using the Cochrane risk of bias tool [16]. The Cochrane risk of bias tool was developed primarily for use in interventional studies; we used the tool to examine factors specific to sources of bias frequently found in observational studies. The studies were examined for risk of bias that would potentially influence the association of ETS exposure with serious RSV disease. The studies were judged regarding evidence of misclassification bias of RSV disease, selective reporting bias, confounding bias, exposure ascertainment bias, or participant selection bias. Disease misclassification bias was assessed based on the likelihood of the study population having an LRTI that was not due to RSV. We expect that disease misclassification would underestimate the association between ETS exposure and serious RSV disease. Selective reporting bias was evaluated based on whether outcomes related to risk factors were clearly reported. Confounding bias was assessed based on whether the study controlled for the effects of other variables through multivariate analysis. We expect that unadjusted results may overestimate the association between ETS exposure and serious RSV disease. Exposure ascertainment bias was assessed based on whether the ETS exposure variables were described clearly and determined by the study authors to be adequate measures of ETS exposure in the study population. Finally, participant selection bias was pointed out in case–control studies in which the control group consisted of ill patients with non-RSV respiratory disease, and therefore, the effect of ETS exposure on serious RSV disease could be biased toward the null.
Results
The search of PubMed and embase databases yielded 699 unique results, and the abstracts were reviewed for relevance (Figure 1). Of these, 676 were excluded through successive rounds of review, the majority because the studies did not focus on a disease of interest (RSV, bronchiolitis, or LRTI attributable to RSV or bronchiolitis), were not conducted in a population of interest (children younger than 5 years without serious nonrespiratory disease, such as cancer or organ transplant), or did not assess ETS exposure.
Full review of 57 articles resulted in the exclusion of 34 articles, leaving 23 articles identified by the electronic search. The addition of 7 articles identified from references cited (4 were published before 1990) produced a total of 30 relevant articles.
Discussion
The impact of ETS exposure on RSV disease in infants and young children is consistent among studies using laboratory confirmation of RSV infection and clinical diagnosis of bronchiolitis or RSV. Among 14 population-based studies that examined the risk of admission to the hospital or ED for RSV disease, 12 showed that at least one type of ETS exposure in each study was associated with a significant adverse outcome in the bivariate or multivariate analysis. The observation that ETS exposure increases the risk that a child will develop RSV disease that will require hospitalization is robust because these studies used different methods (prospective, retrospective, cohort, case–control) in different patient populations (infants who were premature, term, or with compromising conditions), in a variety of countries and cultures. In addition, the evidence suggests that ETS exposure is associated with more severe hypoxia among children hospitalized for RSV [35–38], and one study found an increased risk of mortality from bronchiolitis [3].
Among studies in premature infants, 5 [9, 10, 19–21] of 7 [9, 10, 19–21, 27, 32] found ETS exposure to be a significant risk factor in bivariate or multivariate analysis, including 5 of the 6 [9, 10, 19–21, 32] studies assessing laboratory-confirmed RSV. One study contradicting this conclusion did not have laboratory confirmation of the diagnosis and relied on a claims database, rather than direct data collection, for ascertainment of the ETS exposure status [27]. Misclassification of disease status or missed diagnosis may have contributed to the negative findings in this study. The other was a small study of 30 premature infants with BPD on home oxygen therapy, 16 of whom developed RSV [32].
The evidence concerning whether ETS exposure increases the risk of mild RSV infection is much less convincing. In a very large study, Carroll et al. found ETS exposure to be associated with only a small increased risk of RSV illness (OR, 1.06) presenting in the outpatient setting [28]. If this OR represents the true risk, the Holberg [22] and Marbury [30] studies, which did not find a risk, would have been underpowered to detect it because of smaller sample sizes. Because nearly all children contract RSV during the first few years of life [1] and most cases are mild [2], there may be a ceiling effect. If children with no ETS exposure are almost certain to contract RSV, ETS exposure can increase the risk of mild infection only slightly.
Misclassification of ETS exposure is a major challenge in studying associations of ETS exposure with disease. Misclassification of exposure status produces a bias in the direction of reducing the apparent magnitude of the risk, leading to either an underestimate of the true ETS exposure risk or to a null finding. Misclassification of an infant or child's ETS exposure comes from researchers' use of one or a few measures of possible exposure, which actually can come through many avenues. Examples include in utero exposure through active and passive maternal smoking and postnatal smoking by the mother, father, other individuals living in the home, visitors, and babysitters. ETS exposure outside the home occurs in public places, day care settings, and houses of friends and relatives. No study in this review gathered exposure data for all potential sources. The smoking status of, for example, the parent is a poor proxy for this global exposure as demonstrated by cotinine level studies. Urinary or serum cotinine (a metabolite of nicotine) is an objective measure of ETS exposure but provides information regarding only the previous 48 to 72 hours of exposure [40]. In one study, infants whose parents reported that they did not smoke had mean cotinine levels that were 80% as high as those for infants with one smoking parent [39]. Some infants of nonsmoking parents had higher cotinine levels than some infants with two smoking parents [39].
Confounding bias is another potential obstacle to determining the association between ETS exposure and serious RSV disease. A few studies found an ETS exposure effect in bivariate analyses but not in multivariate analyses after adjustment for other factors [11, 21, 39]. Multivariate models that include ETS exposure and its related factors may be difficult to interpret due to potential collinearity. Smoking status has a well-known association with socioeconomic status (SES) [41], and SES is predictive of ETS exposure in children [42]. Therefore, SES may be a proxy for global ETS exposure over the early years of life. In addition to SES, smoking status is also predicted by race, educational attainment, and marital status [43]. Few of the multivariate studies provided a rationale for their selection of control variables. In reporting of future studies, greater details about the multivariate modeling steps may aid in assessment of collinearity when significant bivariate outcomes become nonsignificant in multivariate analysis.
This review has several limitations. The search was limited to studies published from 1990 to April 2009 in the English language. We searched only Pubmed and Embase and did not attempt to locate unpublished studies. The nature of the primary studies precluded a meta-analysis. The large retrospective database analyses included in this study (Table 2) all depended on bronchiolitis or RSV disease classification from diagnostic codes or medical record diagnosis. Although RSV is a leading cause of LRTI in infants and children, identifying the etiology of LRTI is not systematically undertaken in EDs or physician offices. Methods and reporting of ETS exposure ascertainment in these studies also varies widely. However, in most studies, data on the child's ETS exposure level ultimately are gathered from parent or caregiver report, whether through direct data collection for the study or, for example, through retrospective review of the mother's prenatal health records. Our review highlights the inherent difficulty of accurately assessing global ETS exposure.
Conclusion
Overall we found ample evidence that ETS exposure places infants and young children at increased risk of hospitalization for RSV-attributable LRTIs, and increases the severity of illness as measured by degree of hypoxia among children hospitalized for RSV. Based on a small number of studies, we also found evidence that ETS exposure does not increase the likelihood among general populations with RSV of hospitalization versus outpatient treatment.
The prevention of serious RSV illness provides one more rationale for protecting infants and young children from exposure to tobacco smoke, especially high-risk groups such as premature infants and those with chronic conditions who are considered at increased risk of serious RSV disease.
Declarations
Acknowledgements
Editorial assistance was provided by Susan DeRocco, PhD, and Gerard P. Johnson, PhD, of Complete Healthcare Communications, Inc. (Chadds Ford, PA) and was funded by MedImmune.
Authors' Affiliations
(1)
Department of Family Medicine and Community Health, University of Massachusetts Medical School, Worcester, USA
(2)
MedImmune, Health Outcomes & Pharmacoeconomics, One MedImmune Way, Gaithersburg, USA
(3)
RTI Health Solutions, Research Triangle Park, USA
Copyright
© DiFranza et al.; licensee BioMed Central Ltd. 2012
This article is published under license to BioMed Central Ltd. This is an Open Access article distributed under the terms of the Creative Commons Attribution License (http://creativecommons.org/licenses/by/2.0), which permits unrestricted use, distribution, and reproduction in any medium, provided the original work is properly cited.