Editorial Profiles
Darren Byrne is an Editor for the BMC Series and has been the Editor of BMC Pediatrics since July 2019.
Darren did his BA in Psychology at the National University of Ireland, Galway. Following this he did an MA in Criminology and Criminal Justice King's College London. After this he did an MSc in Neuroscience with Psychiatric Genetics at King's College London. He then did a PhD in Neuroscience in the Centre for Developmental Neurobiology, King's College London studying experience-dependent neural plasticity. Darren joined BMC in October 2018 as a locum editor after finishing his PhD and became a manuscript editor in March 2019.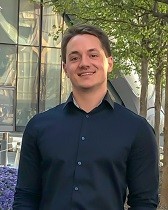 Brock joined BMC in February 2018 after obtaining his Bachelor of Science degree through the University of Nebraska at Kearney with a Biology Major and Journalism Minor. During his undergrad, Brock enjoyed the privilege of being a lab assistant to multiple professors, completing his own mentored research project, and being named the first dedicated science reporter for the university newspaper. During his time with BMC, Brock has been the Assistant Editor for BMC Pediatrics, BMC Cardiovascular Disorders, BMC Nutrition, BMC Biochemistry, BMC Structural Biology, BMC Neurology, BMC Neuroscience, and BMC Sports Science, Medicine, and Rehabilitation. Brock is also a member of the BMC Series Blog Editor team.

Follow